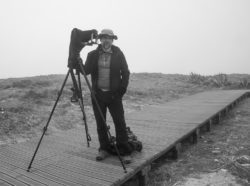 photo©Anna Gembacka
Born in 1973, started taking photographs as a boy with my Father's Zenith TTL. Awareness of photography came to me many years later, when I started to study in Warsaw School of Photography and Graphic Design established by Dr. Marian Schmidt. I was involved for ten years (2008 – 2017) with the School as a lecturer in Digital edition, color management and printing / Technics and equipment class on photography department and in Offset and digital printing – DTP class on Graphic Design department.
Shooting on films. Preferring picture generated on black and white silver-chloride and colour negatives. The way how the picture is looking finally – made on the paper – is the most important for me. I appreciate presentation and contact with viewers by the internet publishing. However my favourite way of interaction is an archival qulity print, mounted and framed. Finding inspirations in literature, art and meeting people I'm constantly developing my photographic awareness and skills. Exceptionally, on landscape expression photography. Keeping landscape as a subject I practice expression of myself on base from Alfred Stieglitz developed by creative activity of Edward Weston, Minor White and Paul Caponigro.
I am former and vice president of Polish Photographic Society EKWIWALENTY.
Taking pictures for commercials, PR, documentary and on movie set. I work as a prepress operator (DTP) and multimedia picture digital editor. I'm fine art printer and darkroom technician, making analog fine art black & white silver chloride prints. I teach photography and postproduction in both analog and digital. This way the photography is fulfilling my life. My professional activities are presented on FOTO-GRAFIKA.PL.
I live in Warsaw.